Quality Audit
Sitemap Quality Audit
Hello there! 👋
If you're reading this, it's possible that you were directed here by the Knowledge Hub or maybe you're just exploring the Answerly Help Center. Either way, welcome!
What is Sitemap Quality Audit?
Sitemap Quality Audit is an essential process in Answerly that ensures the sitemap of your website is in the best shape before training your agent with it or when you submit your sitemap for agent training.
Think of it as a health check for your sitemap, just to ensure it's in tip-top condition for our system for effective training of your agent.
What can you do?
Your sitemap needs to support both the loc and have a functioning lastmod tag that accurately reflects when the page was last updated.
For instance, if a sitemap is valid and follows the rules, it would look something like this: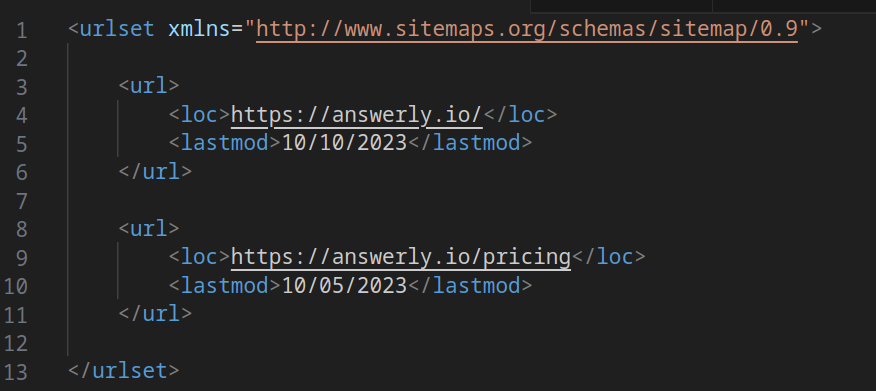 If your sitemap supports the above format, then congratulations, your sitemap will pass the Sitemap Quality Audit. 🥳 🎉
Remember, having a healthy sitemap is very important as it enables our system to better understand and train your agent to provide the best assistance to your website visitors.