Getting Started
Introduction to Answerly
Welcome to Answerly! 🎉
Answerly is a platform designed to help businesses stay accessible to their customers 24/7 through the use of AI-powered chatbots.
Our platform works with two concepts: 🧠 Knowledge Hub and 🤖 Chatbot widget.
Knowledge Hub
The Knowledge Hub is the brain of the chatbot. This is where you upload all the information about your business. You can include summaries, links, pictures, and more. The more robust your Knowledge Hub, the better your chatbot can serve your customers!
You can create multiple Knowledge Hubs and connect them to different Chatbots in your account.
⚠️ When first signing up, your account will not have any Knowledge Hubs.
To create a Knowledge Hub, go to the Create page and provide a name for the Knowledge Hub along with your Open AI key.
✅ After creating the Knowledge Hub, you must then connect it with your Chatbot by visiting this link.
Chatbot
This is the little messenger-like icon that will be placed on your website. Your customers can click on it any time they need help or have a query.
You can Connect the Chatbot to one of your Knowledge Hubs in your account, so it can answer queries.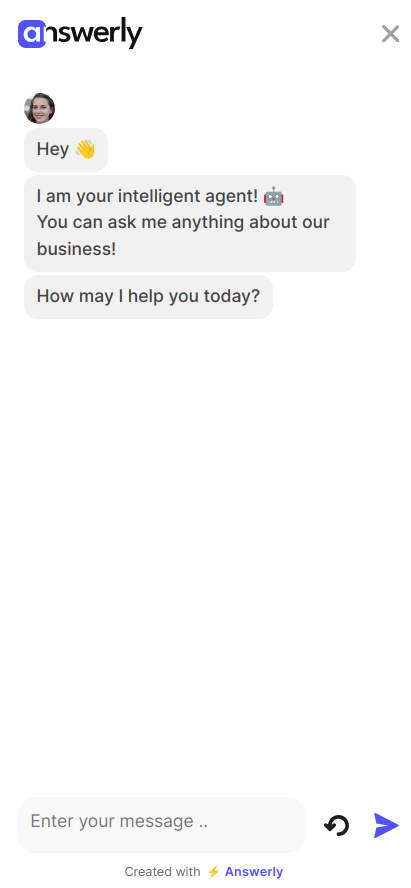 ✅ You can fully customize, or embed the chatbot from the Chatbot settings page.
Answering Questions
Once the chatbot is up and running on your website, it will interact with your customers by answering their questions, guided by the information provided in the Knowledge Hub.
You can browse all the conversations from our conversation history page.
---
In short, Answerly is about bridging any communication gaps that might exist between you and your customers, efficiently, effectively, and in a user-friendly manner!
Please reach out to us at hi@answerly.io if you have any other questions!
Thank you for reading!