Other
Whitelabel FAQ
1. Is the whitelabel a true whitelabel?
Yes! Our branding will not appear anywhere. Even the domain names that we use for delivering the embed codes, etc. will provide a generic hostname that does not link back to Answerly.
2. What do the Whitelabel settings look like??
(Click to zoom!)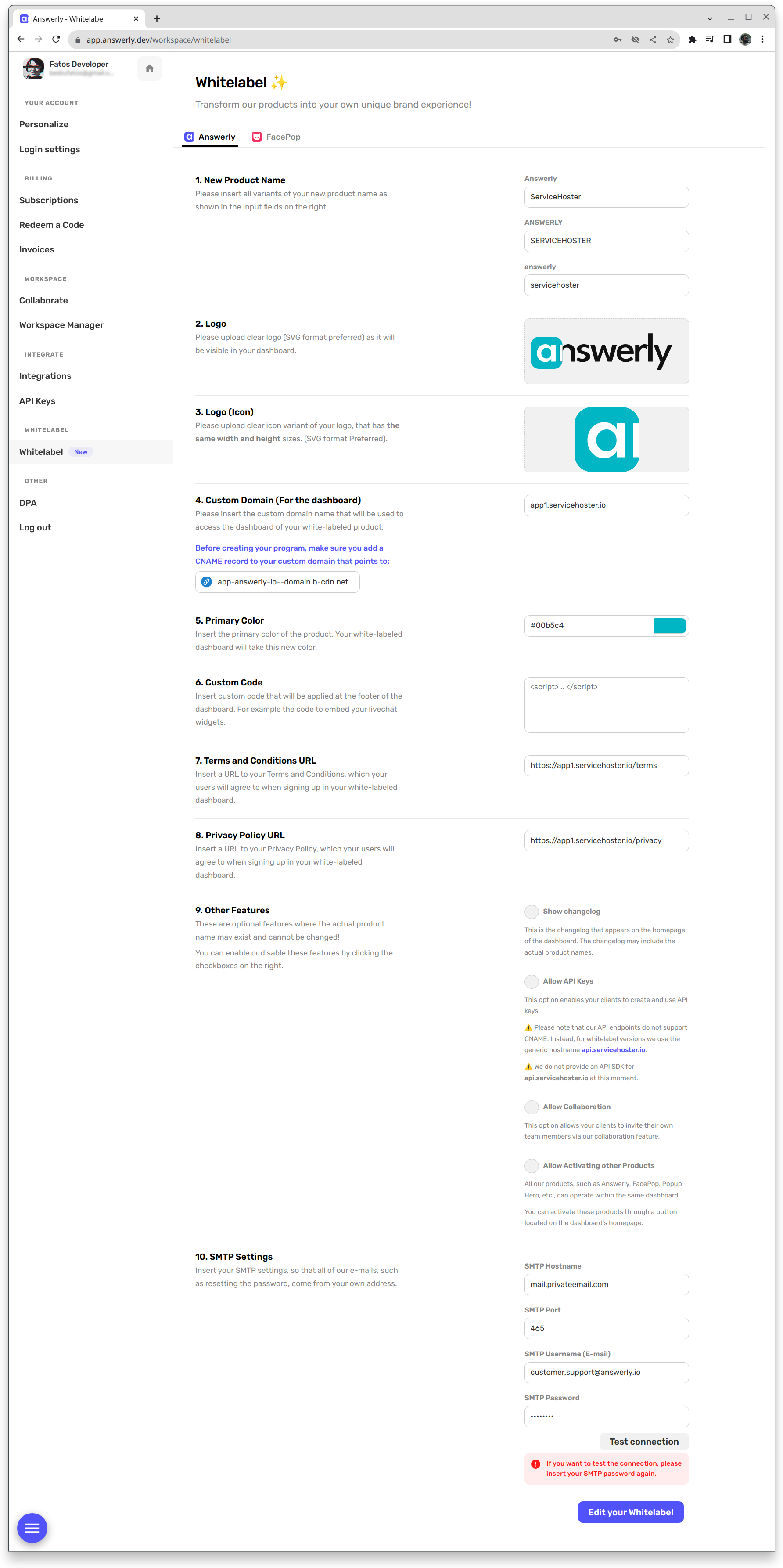 3. Can I re-brand the dashboard using CNAME?
Yes, you can change app.answerly.io to any name of your choice!
4. Can I re-brand the dashboard logo and colors?
Yes! You can upload your own logo and set your own primary color.
5. Can I rename the product?
Yes! You can rename Answerly to anything you choose, for instance, ChatMagic.
6. Can I re-brand the automatic emails sent by Answerly?
Yes! By providing your own SMTP, all of your emails will be re-branded.
7. Can I change the whitelabel settings once I have created my setup?
Yes! You can easily update everything about the whitelabel.
8. Do I have to pay fees to invite clients?
No! You don't have to pay any fees. You unlock whitelabel at a one-time price, either through our marketplace deal or by directly purchasing whitelabel access from us.
9. I just paid for whitelabel, what do I do next?
Log in to your whitelabeled dashboard with your admin account. From there, you can start inviting your clients. This is necessary because the invitations you send from your dashboard will use your branding in emails.
10. How many clients can use my whitelabel setup?
Unlimited.
11. How many workspaces can I create?
Unlimited.
12. Do you handle the payments our clients make?
No, we do not handle the payments. You can manage these outside of our platform, and we don't ask for a cut.
13. How will my clients sign up?
You can use our collaborator and workspace system to send an invitation to your clients.
14. My emails weren't rebranded, what do I do?
This may be because you are still using the dashboard from app.answerly.io. When you use the dashboard from the CNAME version, the emails will be automatically rebranded.
15. I just saw the Answerly branding in the dashboard, what do I do?
Our goal is to provide true whitelabel.
As an admin, you will have access to your whitelabel settings which will display signs of Answerly.
However, if you log in as a client, notice the presence of Answerly while logged into your whitelabeled dashboard, please reach out to us at hi@answerly.io and we will fix the issue immediately.